August, 2014 - Making It Right
A letter to The People of Sesawng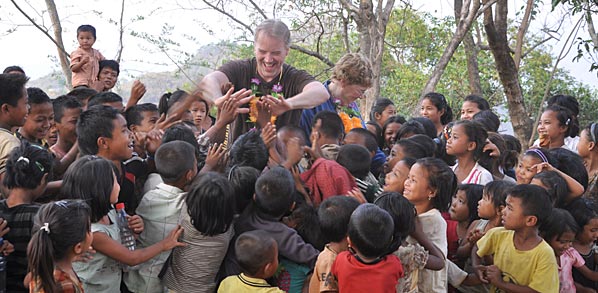 From 2007 to 2012, my mom and I successfully raised enough funds to build our first Just Let Me Learn school in India. This money came from donations from our wonderful friends and family, and more than half from our own personal income. We were elated that we could finally make my mom's dream of building a school a reality.
In January of 2012 we took a whirlwind trip to India to choose a location for this new school. In seven short days we traveled through Delhi, Lucknow, Varanasi, Calcutta and two villages in Mizoram. Saiphai and Sesawng. We were overwhelmed by the incredible people we met and the need we saw. We also realized that we couldn't just build one school. There were too many needs.
On the plane ride home, we agreed to commit to three projects. The 
Chanduali Tutoring Center
, The 
Saiphai School
, and the 
Sesawng School
. We had raised enough money for the first two projects, but had to raise more for the third. To raise the funds for the Sesawng school, we launched a campaign on 
Indiegogo
 and on our website. We used pictures, video and words to help people in the United states understand what they were donating to. In the last two years, the Chanduali Tutoring Center and the Saiphai School have been completed, helping over 700 children get access to education. We were also overjoyed to have raised close to half the amount needed to build the Sesawng School, in just three short months! We returned to India in April of 2014 to celebrate the new Saiphai school and to break ground for the new Sesawng school.
Sesawng site leveling began a few short weeks after our visit. Over the past few weeks, we have received messages from a number of people in the Sesawng village that some of the information we had on our website was incorrect. We quickly shut the pages down to review. As we re-read the content, we realized that we had mixed up some of the information between Saiphai, Chanduali, and Sesawng. 
First, I want to personally apologize to the leaders and families in Sesawng for the errors and assure you that they have been corrected on our website, Indiegogo and Facebook pages. We had no intention of giving out incorrect information or misleading anyone. To ensure there is no confusion, I have attached the official statistical information that we received from the leaders of the Joint Young Mizo Association in Sesawng, Mizoram. Many thanks to C. Lalrinawma, Secretary and C. Vanlalvuana, President for providing this content and helping us resolve the situation.
Second, I want everyone to understand that Just Let Me Learn is a not-for-profit Foundation. None of the founders or volunteers receive any financial compensation for the work they do. In addition, less that 3% of the donations goes to cover administrative expenses to run the foundation. Be assured that 100% of the funds raised to date for the Sesawng project have been applied to the Sesawng excavation costs.
Lastly, I want to thank Mr J Lalmuansanga in Sesawng who brought these issues to our attention. Again, my sincere apologies for these errors. I hope you can see that they were honest mistakes. I also hope that you can see that our intentions have been and continue to be pure. We only want to help the children of Sesawng by giving them access to quality education. My mom & I humbly ask for your cooperation and support of the new Sesawng school project.
Dean Nelson
Just Let Me Learn Co-Founder